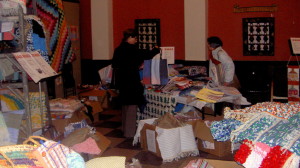 We hope you will join us for one of our upcoming handicraft sales this December, including sales in New York City, New Jersey, and Washington, DC. HANDS will offer a variety of unique, handmade items that you won't find anywhere else–the perfect chance to find thoughtful holiday gifts for your loved ones! The sales will feature products from garbage collector communities in Egypt made by our friends at the Association for the Protection of the Environment (APE).
If you follow HANDS activities, you may already know that we proudly support the work of APE in Cairo, Egypt. This organization works with young women in the garbage collector communities of Cairo to help them learn marketable skills such as weaving and quilting.
HANDS and APE are working together to end the cycle of poverty in these communities with the Crafts of Cairo program. At the APE job-skills and literacy training center for young women, these students are taught to make beautiful crafts out of recycled materials. The girls receive a living wage for their work while they are provided with literacy training and encouraged to complete their high school education.
We look forward to seeing you there!