Arbi Chouikh is an activist, innovator, and entrepreneur who has dedicated his life to advocating for the rights of persons with disabilities in Tunisia. In 2016, Arbi participated in the HANDS-organized Professional Fellows Program, sponsored by the U.S. Department of State, and completed his fellowship with Disability Rights Washington (DRW) in Seattle. There he learned about disability protections included in the Americans with Disability Act (ADA) and how civil society advocates for disability rights. He was exposed to strategies on social media advocacy and learned about the various ways technology can improve accessibility and inclusion for people with disabilities.
During his time in the U.S., Arbi found the inspiration to create HandYwiN, a website and mobile application that uses crowd-sourcing technology to determine the level of accessibility in public and private places in Tunisia for people with mobile disabilities. He consulted his mentors, colleagues, and HANDS staff to design the project and used his enhanced leadership skills to turn his ideas into action when he returned home.
The Professional Fellows Program not only influenced Arbi to use social innovation to advance accessibility in Tunisia, it also opened doors for him to take his project to the next step. Later that year, Arbi attended SafirLab in Paris, a competitive training program for social entrepreneurs in the MENA region, where his project was awarded a small grant by the French Minister of Foreign Affairs. Upon returning home, Arbi was recognized by the Tunisian Minister of Social Affairs, where he received the full support of the ministry to work on his project. Arbi is planning to launch his website and mobile app, HandYwiN, later this year.
Recently, HANDS was able to catch a brief interview with Arbi where he told us a little bit more about his work and experience with the Professional Fellows Program.
What inspired you to work in this field?
First, I am a person with disability and so that's the most interesting point that made me think about improving the situation of people like me. Since I was child, I have been looking to show society that people with disabilities like me can do lot of things as well as others. During the Arab Spring, I discovered that disability rights are human rights, and that disability rights should be considered as a universal, social, and even a political issue especially in relation to the democratic process of Tunisia.
What did you hope to gain out of the Professional Fellows Program?
I heard from my friends who participated in the other sessions of PFP that the Professional Fellows Program is not only a cultural exchange program, but it's also a program that enables you to learn about the initiatives, the programs, and the frameworks by American NGOs and policies [related to] disability and women's rights. Therefore, the most important thing that encouraged me to apply was to discover the situation of people with disabilities in the US and how American policies and civil society organizations work on such rights of [this] population. I wanted to see the good practices of the US that aims to contribute to the social inclusion of people with disabilities, in addition to sharing the experience of the Tunisian civil society on disability rights especially after the Arab Spring and during the democratic process of Tunisia. I have been also thinking about some projects and ideas about the promotion of disability rights towards an inclusive society, and I was sure that I would find many people there who can help me to improve and [actualize] them.
The most important things that I learned from the program is the social media movement that people with disabilities were doing, and the fact that even people with developmental disabilities can have a very important role in the society. I learned also many techniques and improved my skills in civil society management and social innovation, thanks to Mr. Peter; I was waiting for his session every Friday.
[Arbi is referring to his leadership training sessions with Mr. Peter Blomquist, of Blomquist International, who is an expert on international leadership and nonprofit communications and the former Executive Director of the Starbucks Foundation.]
How did this program help you get to where you are right now?
During the program, I have improved the idea of developing a crowd-sourcing accessibility platform for people with wheelchairs, and I shared it with inspiring persons like Ms. Deidre Combs who encouraged me so much to go ahead and make it in reality. I mention again that Mr. Peter gave me a lot of advice in terms of the organizational strategic planning and the social innovation. I really find that very useful in planning activities and making projects with my organization.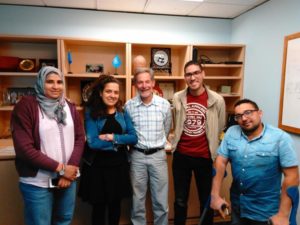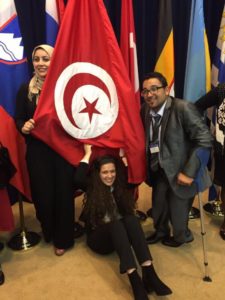 What are your future plans? 
I will follow my work on disability rights, in particular in relation with the technology that harness the social inclusion of people with disabilities and grow my project that identifies the accessibility level of the places for people with wheelchairs. The project is targeted to two of Tunisian cities (Manouba and Menzel Bourguiba), but I want to enlarge it to be an international resource for accessibility and related laws, to be used by every person with wheelchair who wants to go anywhere.
HANDS is proud of Arbi and the rest of our Professional Fellows Program alumni for all of their accomplishments. We are grateful for the support of U.S. Department of State's Bureau of Educational and Cultural Affairs, The World Affairs Council of Seattle, local American host organizations, and our donors for making the program possible.
Want to learn more about accessibility and disability rights in Tunisia? Check out this video produced by Arbi Chouikh and his host organization, Disability Rights Washington.